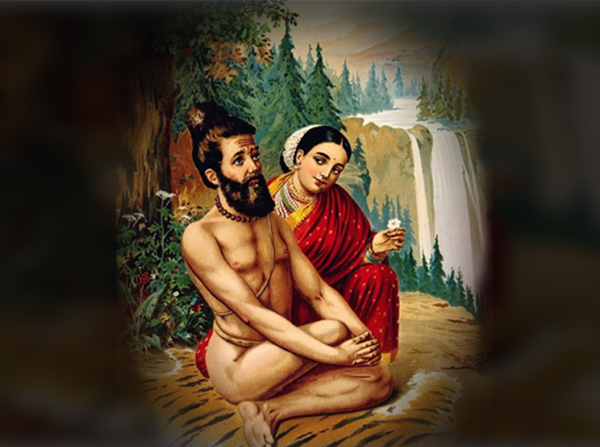 During my recent visit to Baroda, now Vadodara, I had to cross over the 'river' Vishwamitri. What was unusual about the river was that it hardly had any water, which I was told was the norm. However, I was also informed that the river was often in spate and threatened inundation during monsoon. Sounded much like the sage from whom it gets its name!
An interesting story about the origin of the river was mentioned in one of the chronicles of Baroda. The article cites the Skanda Purana and says, once there lived a pious Brahmin in Champavati (now Champaner about 50 kilometres from Baroda) in the Shankar Van (forest). Shankar Van is today known as Pavagadh and is located a short distance away from Baroda (about 46 kilometres), it is revered as a holy site for pilgrims.
One day, the Brahmin decided to offer his head (as a mark of his devotion) to Lord Shiva. But when Lord Shiva learnt about it, instead of being pleased, he was highly disturbed. He did not want to be the cause of the death of Brahmin, considered to be a grave sin according to the scriptures.  Shiva sank deep into the earth creating a huge gorge.
Sage Vishwamitra had his hermitage in the Shankar Van, the place where Shiva had formed the gorge. And it so happened that one day his sacred cow, Kamdhenu* fell into the gorge.
To save the cow, Lord Shiva advised Kamdhenu to let the milk flow from its udders so that she could float to the surface. Later Vishwamitra is supposed to have asked the Himalayas to fill in the gorge to avoid such mishaps. Vishwamitra on the request of the people is also supposed to have blessed the region with a river, which was named after him. Many believe that the meandering river was the source of the Gayatri Mantra which was composed by Sage Vishwamitra, which was initially called 'Sa Vi Tur' meaning 'that from which everything originates'.
*This could be an error as Kamdhenu was the cow of Sage Vasishtha, and Vishwamitra had waged a battle against the sage and lost.
Story collected by:  Utkarsh Patel
Text source: 'Baroda – Know Your Roots' published by Bennett, Coleman & Co. Ltd.
Location: Gujarat