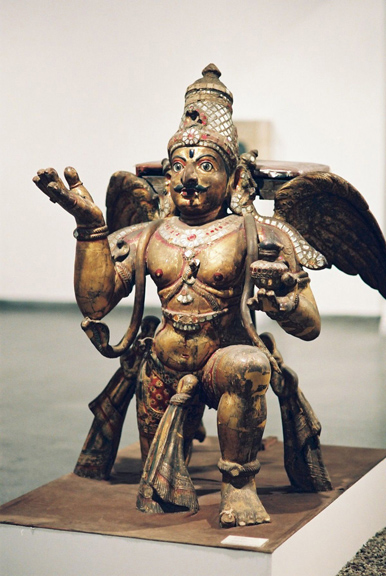 Who is the supreme devotee of Vishnu? Garuda or Hanuman?
According to Puranic accounts Garuda was once filled with pride since he helped the gods acquire the pot of nectar from asuras, also he had aided Krishna steal Parijat tree from Indra's abode. Other than that, Vajra- or thunderbolt the ultimate weapon of Indra was ineffective on him and he was instrumental in killing and wounding innumerable asuras with his strength and speed. Lord Vishnu had given him the coveted position of his Vahana or carrier. Thus Garuda was filled with arrogance to be superior to all other devotees of Vishnu.
Noticing Garuda's arrogance, Krishna decided to test Garuda. He summoned Hanuman to Dwarka aksed him to help shatter Garuda's pride and arrogance. After crossing the gates of Dwarka, Hanuman began destroying the palace orchard. He ate all the fruits, uprooted a number of trees, and in no time demolished the whole orchard. The palace guards rushed to Krishna to inform of the unruly monkey wreaking havoc on the orchard.
Krishna called Garuda who was beside him, and asked him to attend to the problem." You better go with your army and capture the monkey" Krishna advised Garuda.
"O Lord, I don't need an army to catch an insignificant monkey. I myself can tackle the problem and bring the monkey before you " Garuda replied brimming with over confidence.
Continue reading