Team Talking Myths
Dr. Vidya Kamat- Parthan –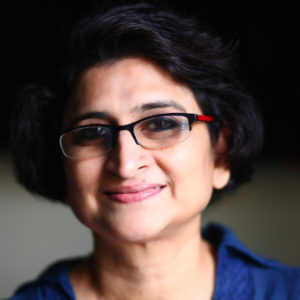 A Contemporary artist, research scholar and Professor of Comparative Mythology.  As an artist she has exhibited her works in India and abroad, and her works are in various prestigious museums. She was also the recipient of cultural scholarship by HIVOS Netherlands for her study on "Documentation and study of roadside shrines in Mumbai". She has been engaged in teaching and designing courses on comparative mythology for many years.  She is an accredited research guide for doctoral students of comparatives mythology at the University of Mumbai since 2003. Currently, she is a co-founder of Talking Myths Project -the online archive on traditional tales from the Indian subcontinent. She is also the Founder Member and Secretary of Center for Study of Mythology and Culture, a nonprofit organization dedicated to the research and study of Indian  mythology.
Utkarsh Patel 
Utkarsh Patel is a corporate-professional-turned-mythologist and now the author of "Shakuntala – The Woman Wronged", published by Rupa Publications. He is a professor of Comparative Mythology at the Mumbai University and has qualifications in Mythology, both Indian and World from Mumbai University. He has been writing a Blog, 'This is Utkarsh Speaking' (www.utkarshspeak.blogspot.in) for close to five years now, and also writes a regular column, 'Mythic Musings' for News18.com (earlier ibnlive.com). Utkarsh is also a regular speaker and lecturer on varying subjects of mythology and other topics, at various forums, litfests, organisations and colleges. He is a co-founder of 'Talking Myths Project', an online archive of traditional tales from the Indian Sub-continent.
Arundhuti Dasgupta Singhal
Author, editor and mythologist, Arundhuti currently works with a financial daily where she handles a small publishing programme that brings out titles on economic, political and corporate affairs. She is also involved with various aspects of the newspaper in different capacities and writes a blog called Mythic Mantra for her paper. She has co-authored two books that were published by Penguin (The Weretiger) and Puffin (Spooked) and also lectures on mythology at many public platforms. She is co-founder of 'Talking Myths Project', an online archive of traditional tales from the Indian Sub-continent.