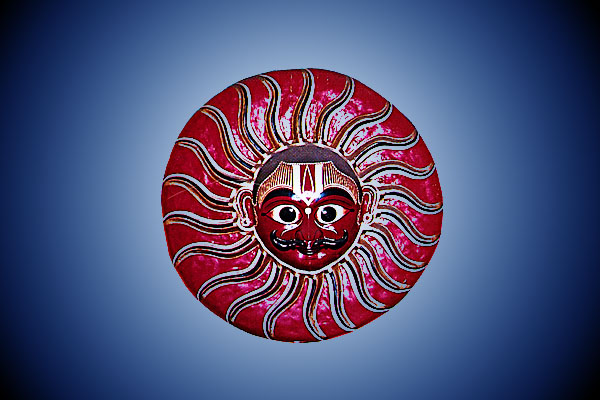 Remember those grandma tales?  Tales, that amused and tickled our imagination as they explained why things were the way they were. Every kid wants to know why the sky is blue and grass is green; why could mountains not have wings and fly and how the rain falls from skies. Grandma had answers to all those tricky questions. Here is one such tale from A.K. Ramanujan's basket of folktales. This curious story explains why the sky and sun are so high up in the sky.
Once upon a time sky and earth were in close embrace. As a result there was hardly any space for creatures on earth to move around or even breathe. Even the sun was so close to earth that its heat was unbearable. People died of either suffocation or excessive heat.
There was a farmer, who was troubled by the heat as he had to toil in his farm under the hot sun. So he decided to shave off his head. But the sun beat down upon him so fiercely that he cracked his skull and he died at once.
His daughter was pounding rice in a nearby yard. The long pounding pestle slipped out of her hand and went up, hit the sky and rebounded back upon her head. She too died instantly as her head cracked open knocking her down.  Her mother was grief stricken to see her husband and daughter die at the same time. Furious and angry, she cursed the sky. " You bastard sky, you bastard sun, why don't you go up and give us some space?" The sun and sky were so scared that they began to move up and up and up.
At about that time a washer man was moving his load of laundry to the river on the back of a donkey. The poor donkey was tottering under the heavy load and could not walk straight. Finally he dropped the load of dirty clothes and began to run in panic. The washer man began to run behind the donkey shouting, "Ho ho stop! Stop!"
The sun and the sky heard the shouting going on down below and thought someone was telling them to stop going up further. So they stopped where they are now. If the washer man had not shouted "Ho, ho, Stop ! Stop!" sky and sun would have gone still further and then there would be no rain or sunshine. People would not be able to live on this earth.
Always remember the old woman and washer man with gratitude, for it is for them that the sun and sky are where they are today.
Story collected by: Vidya Kamat
Text source: A Flowering Tree and other oral tales from India By A.K. Ramanujan, Penguin, 1997
Location: Karnataka