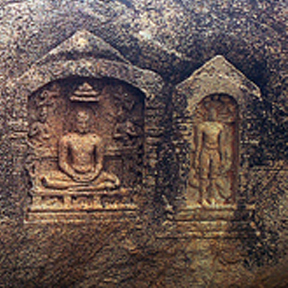 Near Madurai in Tamil Nadu, at the foothills of a mountain called Samanar Malai by the people who live there is a village called Nagamalai. The mountain is called thus because it houses many Jain caves and Samanar means Jain in Tamil. At the top of the mountain was a temple of Ayyanar Karuppannachami.
When the British ruled India, so the story goes, there was an army general who would regularly visit the famous Meenakshi temple of Madurai and insult the goddess. (There is no record of what he did that but there is unanimity in the belief that he did insult her.) This was unbearable for Karuppannachami. So every time the general made his way to the temple, he would knock him off his horse. Disturbed at this, the general consulted an astrologer who told him that this was being done by none other than Karuppanna Chami of Samanar Malai.
On the astrologer's advice, the general whose name has been lost to history, brought Karuppannachami from the mountain and consecrated him near the Ayyanar temple in Nagamalai. No sooner than he did this, the problem disappeared. And a grateful general donated large amounts of land to the people who helped him do that.
Before bringing down Karuppannachami from the mountain, the Brahmins used to worship at the Ayyanar temple but afterwards the task was entrusted to the Velars. These people had to come through thick forest to reach this temple from their village Vilacheri and they believed that while walking to the temple from their villages and back, Karuppaannachami accompanied them in the form of a bear for their protection. The Velars gratefully named their children "Samanar Malai Karadi (The bear of the Jain mountain).
The village of Nagamalai however had other problems too. It along with its neighboring village of Keezh kuil kudi lay in a barren area. Famine forced its people to go to other villages for jobs. Two residents of these villages went to Karumathur and worked as priests at the Moonu Sami temple. After the famine when they were about to return , The gods Virumappa Chami and Kasi Mayan of Karumathur asked them to take one fist of mud from their temples to their villages. They took the mud and consecrated temples for these Gods near Karuppannachami of their village. They also consecrated Kazhuvanathan, Karuppayi Amman , Irulappan , Changili Karuppannachami etc as security gods.
Contributor's bio.
P.R. Ramachander is a retired scientist. Apart from biometrics , he is interested in astrology, translating ancient scriptures to English, Hindu culture, and Story telling.