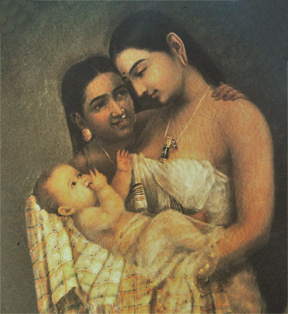 Once a girl was born with a curse that she would marry her own son. As soon as she hears the curse, she vows to escape the fate by secluding herself in the dense forest, eating only fruits and foreswearing all male company. But when she attains puberty, as fate would have it, she eats a mango from a tree under which a passing king has urinated. The mango impregnates her; bewildered, she gives birth to a male child; she wraps the baby in a piece of her sari and throws him into a nearby stream. The child is picked up by a childless king of the next kingdom, and brings him up as a handsome young adventurous prince. One day the young prince comes hunting in the same jungle where the cursed woman lives. They fall in love. She tells herself her son is longer alive and she can marry the boy she is in love with. She marries him and bears his child. According to the custom, the father's swaddling clothes are preserved and brought out for the new born son. When the prince's swaddling clothes brought out she recognizes her sari, with which she had swaddled her first son, now her husband and understands her fate had really caught up with her.
She waits till everyone is asleep and sings her lullaby to her new born baby:
Sleep
O Son
O grandson
O brother to my husband
Sleep o sleep
Sleep well
She then hangs herself by the sari twisted into a rope.
Location: Karnataka
Collector: A.K. Ramanujan
Source: "The Indian Oedipus" (pp109-136), Vishnu on Freud's Desk. Ed by J. Kripal, & T. G Vaidyanathan, Oxford University Press, 1999