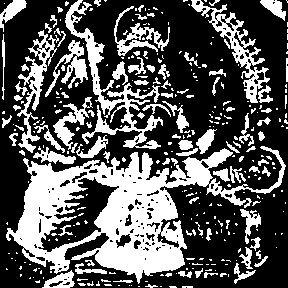 Vilwamangalam Sawmiyar, believed to be one of the enlightened men of ancient Kerala and credited with instituting many shrines and temples across Kerala, had the special ability to see "divine beings" with his eyes. Once as he was passing through a jungle, he chanced upon seven maidens bathing in a pond, without a care in the world. Curious, he went closer to see who they were and (given his gift) immediately recognized them as goddesses. As he boldly walked towards them, they ran helter-skelter and finally jumped into seven different ponds to escape him. He went ahead and pulled out six of the maidens one by one, enshrining them near the ponds as divinities for worship. The seventh one had jumped into a mud pond that was actually a quagmire. He tried to pull her out of the slippery mud but she refused to come out. By now she was covered from head to toe with the black slippery ooze and kept slipping off from his grip.
After hours of futile attempts Swamiyar was so exhausted and angry that he caught her by her hair and pulled her out, while hurling abuses at her. But he could only pull her head (Thala) out of the mud or 'Cher' as it is called in Malayalam. In the process, some of the hair from her head was pulled out too, leaving holes on her scalp. And the place where the goddess is enshrined came to be known as Cherthala (mud-head), and the goddess is identified as Kaarthyayani- an aspect of mother goddess Parvati.
An interesting aspect of this deity is that the Swamiyar, in his sheer exasperation and anger kept abusing the goddess even as he built a shrine for her. And to this day during the pooram festival celebrated in the month of Edavam (May- June), her devotees playfully abuse the goddess. The goddess accepts the abuses as a prayer and in return she bestows her devotees with prosperity and happiness. In the sanctum sanctorum, only the head of the goddess Karthyayani is visible as the rest of the body could never be pulled out and is hence considered to be below the earth. The head of the deity also shows the marks where Swamiyar pulled out the hair. The shrine of Karthyayani of Cherthala is one of the important Shakti-peethas in the south.
Story collected by: Vidya Kamat
Text source: Aithihyamala Vol-1 By Kottarathil Shankunni ( Malayalam)
Location: Kerala
Image details: Devi Kaarthyayani of Cherthala
Image source: http://sherthala.blogspot.in/p/temples.html